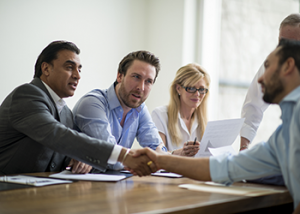 Outsourcing
Edelweiss creates custom RPO solutions that help talent acquisition professionals meet their most difficult hiring challenges. We help clients transform their hiring practices into a strategic weapon for their business, and we do it in a wide variety of ways.
There are no off-the-shelf solutions at Edelweiss. We create the right outsourced recruiting solution for each client. Among its other benefits, our unique RPO approach allows us to transition custom RPO solutions quickly and painlessly. Down the line, we're able to scale up or down quickly, as needs evolve.
The flexibility built into our seven-step recruitment process makes it easy for us to offer end-to-end enterprise hiring or to focus our work on specific aspects of the recruiting process, depending on the client's specific needs.
We collaborate with client's internal talent acquisition team in whatever way serves them best. For some, we take on the hiring process in its entirety. For others, we share the hiring process with the internal team. Or, we can take on full responsibility for a defined segment of hires while corporate talent acquisition handles the balance of the company's needs. We perform effectively and remain committed to our clients' hiring success in any of these arrangements.
Increasingly, companies are considering an outsourced recruiting solution when they need to fill positions that are outside their traditional comfort zone. This is especially so when volume is involved.
Edelweiss has a deep well of volume hard-to-fill expertise. We've helped a big european low-coster airline to enter new markets by hiring large numbers of cabin crew, ground handling and security staff. We've helped several other hotel chains and we were also involved in mass stewards hiring for EURO2012.
We know how to hire at volume, delivering both efficiency and quality in the most traditional RPO value model.
At Edelweiss, our goal is to make the process of filling hundreds or thousands of jobs as easy on our clients as possible, however we can. We'll do whatever it takes to influence our clients' businesses for the better, measurably and for the long-term.